Amgen Tour of California Stage 6 Men's Individual Time Trial – Friday, May 19, 2017
Big Bear Lake is proud to be hosting Stage 6 of the Amgen Tour of California and their first ever high-altitude time trial on May 19, 2017. The Amgen Tour of California is known as an international, Tour de France-style bicycle road race featuring elite professional cycling teams from around the world. They're competing for the highest prize purse of any cycling race in North America.
The Big Bear Lake Time Trial course will begin in the heart of the Village in Big Bear Lake. Racers will take off one at a time, riding against the clock for the best time of the day. The first three miles of the route wind through a residential section along the south shore of the lake. Taking the Stanfield Cutoff across the lake, the course will turn left, continuing on Hwy 38 to the town of Fawnskin. As the riders turn back toward the City of Big Bear Lake following essentially the same route back into town, they can expect large crowds in Fawnskin. Heading right onto Big Bear Blvd. with just .6 miles left, the riders will then turn right onto Pine Knot Ave, through a narrow stone archway and onto a 1,000-foot jetty. For riders pushing their physical limits, the finish line will very close to the water's edge!
This will be an amazing event for the whole family with a weekend full of fun events and activities. Don't miss your chance to be part of the action!
Click here for more info.
Click here for the weekend event schedule.
Course Map: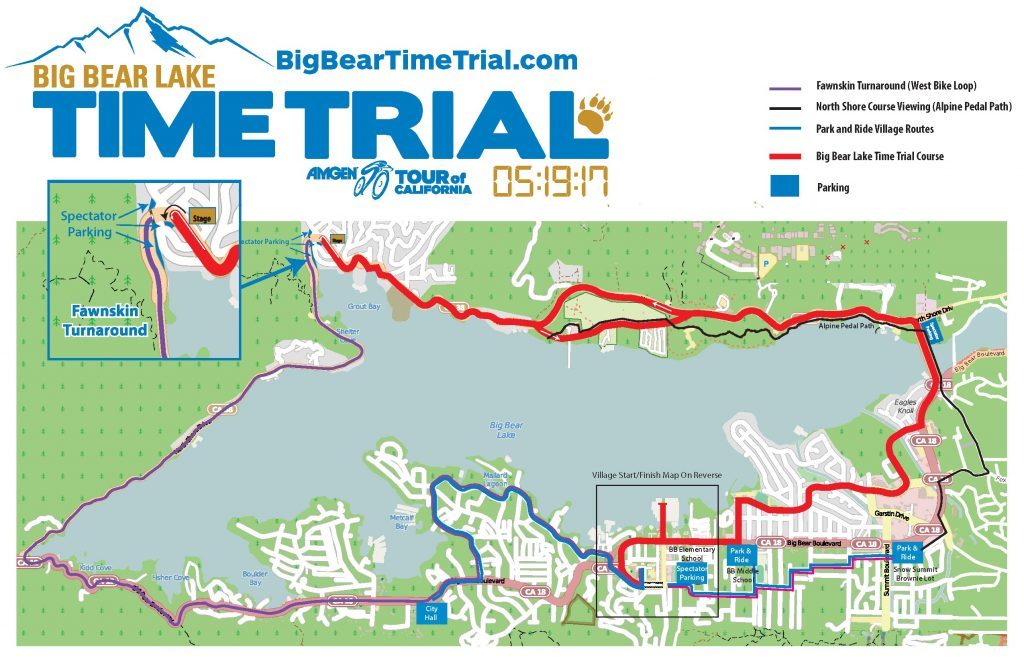 Start and Finish Area Map: