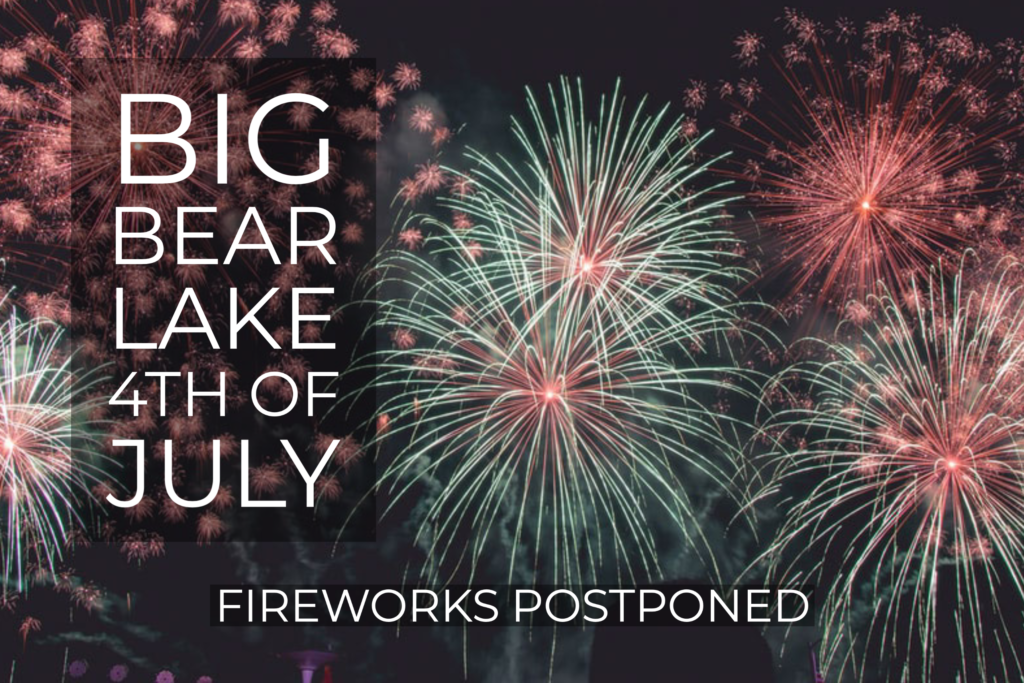 Following is an excerpt from a press release from Big Bear Lake City Manager, Frank Rush, July 2, 2020. For the most recent updates from the City of Big Bear Lake, click here.
JULY 4 FIREWORKS POSTPONED
The City has postponed the July 4 fireworks, in response to the recent escalation of the COVID-19 threat in Southern California. The fireworks show will be rescheduled for later this summer or fall if / when the COVID-19 threat has subsided and it is again possible to present this great annual Big Bear tradition in a safe manner. The City is disappointed that it will not be possible to have the fireworks show on July 4, but believes it is in the best interest of our residents, businesses, and visitors to postpone the show.
The City Council authorized the July 4 fireworks show at a special meeting on June 16, at which time the COVID-19 threat was consistently decreasing and there was abundant hospital capacity in Southern California. Unfortunately, circumstances have changed quickly and significantly over the past 15 days, and current circumstances are not conducive to a safe, enjoyable show in Big Bear Lake. Additionally, Governor Newsom has encouraged all July 4 fireworks shows in certain counties, including San Bernardino County, to cancel or postpone – and the City concurs with this directive.
The new fireworks date will not be set for several weeks, and the City will continue to monitor the COVID-19 threat in order to determine if/when the show can occur. The new date will be announced in a future City COVID-19 update.
2017 BIG BEAR FIREWORKS TO BE BROADCAST AT 9 PM ON JULY 4
Unfortunately, we can't provide the real thing, but you can tune in to watch the 2017 July 4 fireworks show on Saturday night.
The 2017 show will be broadcast on cable channnel 182 and on Visit Big Bear's Facebook Live beginning at 9 pm. Additionally, you can view the 2017 show anytime on Saturday at the
City's website
or
Visit Big Bear's website
.
PERSONAL FIREWORKS ARE ILLEGAL!
The City reminds everyone that personal fireworks are ILLEGAL in the Big Bear Valley!
City staff, Sheriff's deputies, and Fire Department staff will be closely monitoring for any illegal fireworks activity, and citations with fines up to $1,000 will be issued for any fireworks violations. Please don't put our community at risk of a significant forest fire, and simply sit back and enjoy the spectacular professional show over the lake on July 4!
If you see someone using personal fireworks, please call (909) 866-7566 or text (909) 731-4887 immediately. For additional information, please contact Big Bear Fire Department by clicking
here
or call (909) 866-7566.