Big Bear Real Estate Market Stats for the month of April 2020
Market Wide Summary
Navigating the COVID-19 situation, April 2020 proved to be an interesting month for the Big Bear real estate market. Perhaps not surprisingly, notable data points include the relatively sharp decrease in the number of sales and also in new listings coming on the market compared to the prior month. Sales activity did continue, albeit at a slower pace. Average days on market increased 33% compared to March.
The average sales price of single family homes in Big Bear in April decreased by 10% compared to the previous month, and the median sales price was down 22%. However, average sales price over Jan-Apr was 8% higher and median sales price was up 1% compared to 2019 over the same period. Average sold price per square foot went unchanged from March to April.

List Price vs. Sale Price and Days on Market
Properties sold in April went for 96% of the asking price after 133 days on market on average, compared to 98% and 100 DOM in March. The list-to-sell price ratio was also 97% on average over Jan-Apr, as compared to 97% over Jan-Apr 2019.
Big Bear Inventory Trends
Total inventory* was up 4% month over month, though there were 46 fewer new new listings in April than in March. The total number of homes on the market last month was just about 3% lower than it was in April of last year.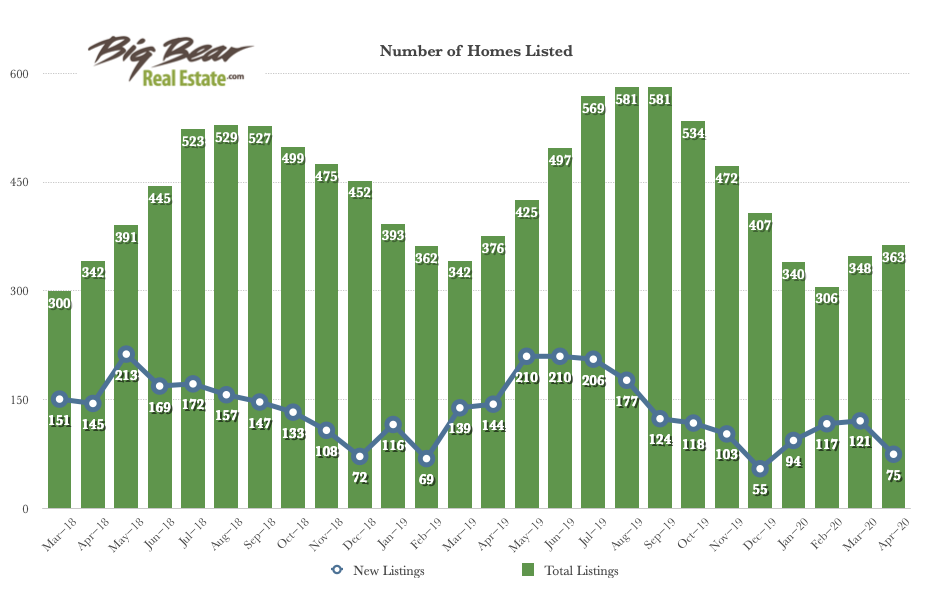 *Total listed inventory numbers as of the 15th of each month.
Closed Transactions
There were 45 sales in April, which was 54% less than in March, and 58% fewer sales than in April of last year. The total number of sales Jan-Apr was 11% lower compared to sales Jan-Apr 2019.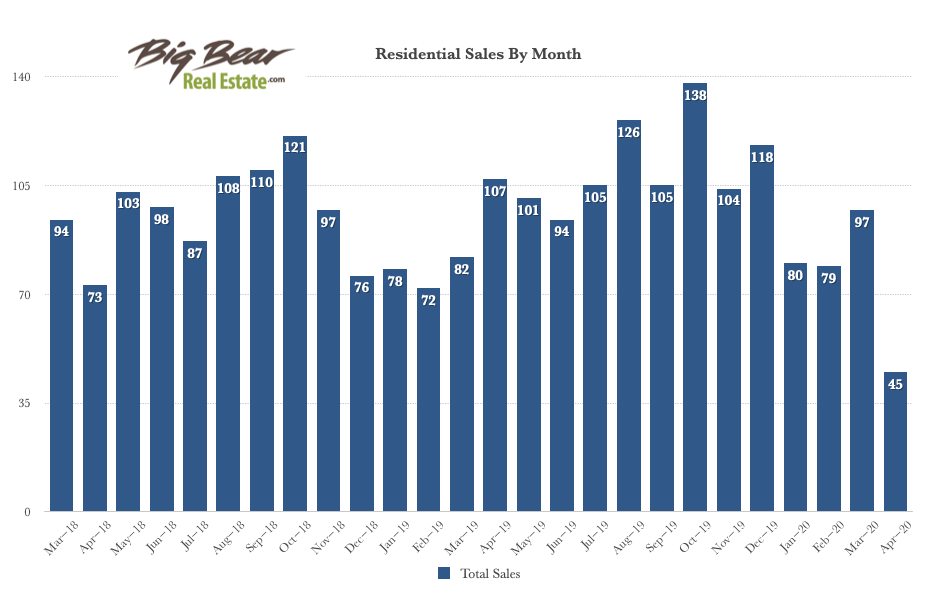 *Data derived from Big Bear Association of REALTORS®, Inc. (BBV) MLS. Information herein deemed reliable but not guaranteed.