Rathbun Corridor Sustainability Plan Approved
The Rathbun Corridor Sustainability Plan was approved at a joint meeting of the Big Bear Lake Planning Commission and City Council on February 13, 2017.
The Rathbun Corridor Sustainability Plan was created to connect Big Bear Lake and the San Bernardino National Forest by way of multi-use trails, paths and roadways while aligning with Rathbun Creek's natural environment and incorporating the commercial district along Moonridge Road.
Background
In 2014, The City of Big Bear Lake received a grant from the Southern California Association of Governments (SCAG) to develop a sustainability plan for the Rathbun Creek Corridor. The Rathbun Corridor is located at the east end of Big Bear Lake and extends from the south shore of the lake through several residential and commercial areas to the San Bernardino National Forest. The corridor is anchored by Rathbun Creek, a natural drainage from the National Forest to the lake. Unfortunately, the creek and habitat are degraded, and most businesses from the primary commercial districts along Big Bear Boulevard and Moonridge Road are disconnected from existing and potential natural amenities.
The Rathbun Corridor Sustainability Plan rose out of the 2014 Big Bear Valley Pedestrian, Bicycle and Equestrian Master Plan. The goal is to develop walking, biking, and equestrian trails along Rathbun Creek to help revitalize the Moonridge business district and encourage development.
Vision Statement
"The Rathbun Creek Corridor will evolve into a recreational, educational and transportation greenway, providing residents and visitors with a variety of opportunities to connect to a diverse offering of destinations, services and natural amenities."
Objectives
Enhance the functionality and aesthetics of the corridor with landscaping, streetscape, gateways, parks and other amenities.
Provide ongoing maintenance and keeping the corridor clean.
Establish points of access and trailheads.
Complement and support current land uses including existing businesses and encouraging new investment along Moonridge Road.
Provide traffic solutions that slow traffic along Moonridge Road, though not to impede high volume traffic on high demand weekends.
Engage residents throughout the planning and design process through public outreach and community workshops.
Identify areas for environmental improvements and habitat restoration.
Focus on Moonridge Improvement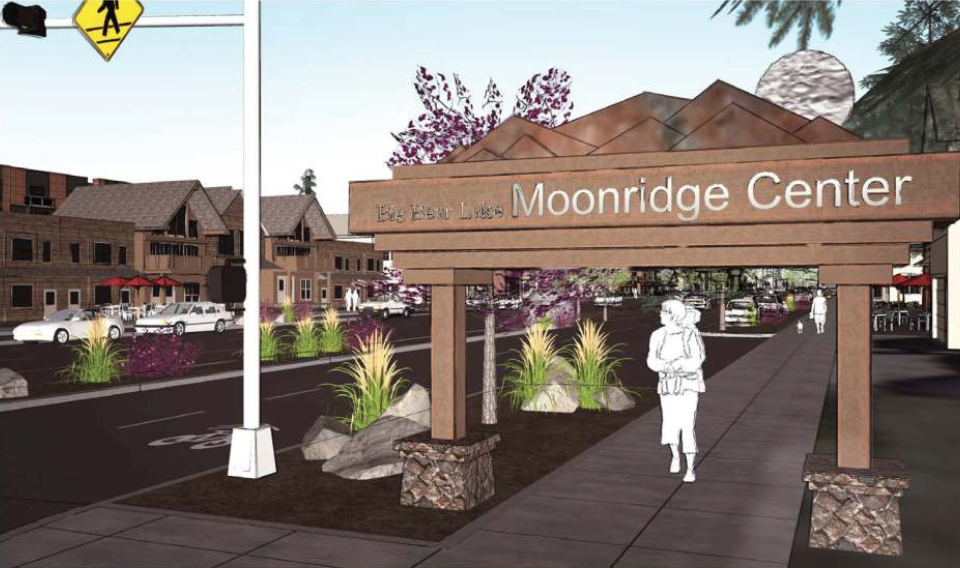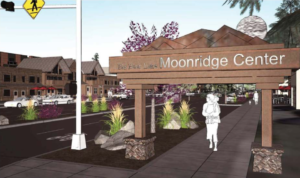 The commercial strip along Moonridge Road, aka the Moonridge Corridor, has seen increasing investment as of late, but still struggles to establish a strong identity as a destination. A large focus of the Rathbun Plan is the economic development of the Moonridge area, land use and zoning, and parking.
The shopping and commercial district on Moonridge Road will integrate with the Rathbun Corridor and is adjacent to the proposed multi-use creek-side trail. The so-called "Moonridge Center" will feature more retail spaces, restaurants, office and residential spaces. Proposed amenities and additions include a redesigned roadway with planted medians, bike lanes, a roundabout, sidewalks and trail gateways. Examples of proposed new businesses are bike-oriented retail and a hotel.
The development of the Moonridge Center section of the Rathbun Corridor Plan will establish Moonridge with a strong identity as an attractive and vibrant destination.
Update July 1, 2021: Moonridge Corridor Improvement Project Set to Begin Construction