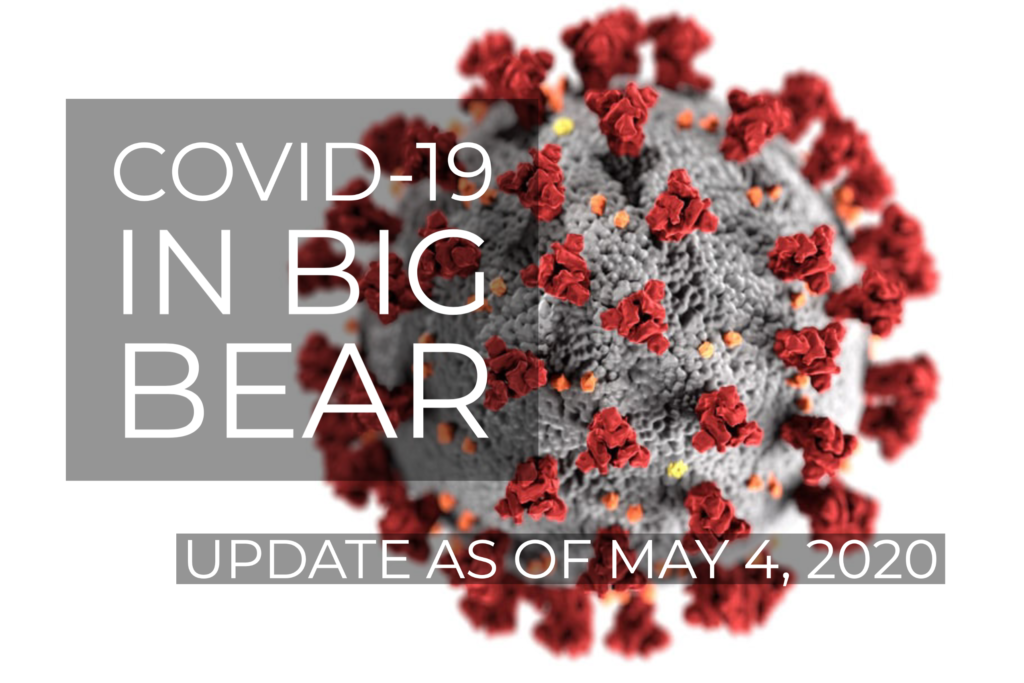 Following are excerpts from press releases from Big Bear Lake City Manager, Frank Rush, May 2-4, 2020. For the most recent COVID-19 info from the City of Big Bear Lake, click here.
The City of Big Bear Lake seeks responsible reopening
Earlier today, Governor Newsom indicated he expects to loosen some restrictions for low-risk retail establishments, including bookstores, music stores, toy stores, florists, sporting goods, and others this coming Friday. More specific guidelines are expected later this week, and the City will implement these changes in Big Bear Lake upon confirmation of details by State and County officials. These changes will be communicated in the City's COVID-19 updates later this week.
Perhaps more importantly, the Governor's new
Executive Order
(paragraph 2) includes a provision whereby County governments may secure the ability to be less restrictive than the State in the future.San Bernardino County officials are currently considering reopening strategies, and the City is hopeful that our County will be able to secure approval from the State Public Health Officer to enact its own, less-restrictive guidelines that will enable business activities to resume in Big Bear Lake and the Big Bear Valley in the near future. City officials remain in close contact with County officials on this issue, and are working hard to secure needed flexibility in Big Bear Lake and the Big Bear Valley.
The City believes that it's time for Big Bear Lake to reopen – in a safe and responsible manner. The City has been relatively fortunate, and meets many of the criteria that Governor Newsom has suggested are important to enable a return to some level of normalcy:
to date there have only been 5 confirmed cases in the City, with no new cases reported in the past 9 days,
there have only been 2 new confirmed cases in Big Bear Lake in the past 30 days, and it's also likely that some or all of the confirmed cases in Big Bear Lake have recovered by now,
the unincorporated areas outside Big Bear Lake only have a total of 3 confirmed cases to date,
the April 17 testing event in Big Bear Lake yielded only 1 positive test out of 229, and there was sufficient testing capacity for many more that day, but was not needed,
any individual in our community who needs a COVID-19 test can easily secure a test at a nearby location,
there is sufficient hospital bed, ICU bed, and ventilator capacity in San Bernardino County,
Big Bear Fire / EMS call volumes remain below typical levels, and Bear Valley Community Hospital reports manageable patient loads,
antibody testing is in the process of being rolled out in San Bernardino County, and
Big Bear Lake residents and businesses have acted responsibly, and have diligently adhered to the recommendations and restrictions for more than 7 weeks now.
The City is pleased with Governor Newsom's announcements earlier today, which are a step in the right direction, and looks forward to San Bernardino County securing local flexibility – and working with or delegating to the City – in the near future. As a result of the City's efforts over the past two weeks, including the diligent work of a special Council-appointed ad hoc committee and the City Council's thoughtful consideration of these issues, the City aims to be well-prepared to reopen our community in a safe, responsible manner – hopefully very soon!
Guidance for lodging, vacation rentals coming soon
In accordance with Governor Newsom's and County public health officials' orders, the City previously advised lodging facilities and vacation rentals that they could not operate and to block out all dates through at least May 8 – this coming Friday. The City may extend this guidance to May 15 later this week, however, we are awaiting further indications from Governor Newsom in the next few days before finalizing any decisions. A final decision will be communicated in a City COVID-19 update later this week.
If lodging facilities and vacation rental managers / owners have reservations scheduled for May 8 and beyond, please simply be advised that it may become necessary to postpone those reservations until at least May 15, and perhaps later depending on the evolution of the Governor's and the County's restrictions. Lodging facilities and vacation rental managers / owners should plan appropriately and advise scheduled guests accordingly.
Lodging / vacation rental facilities take advantage of TOT/TBID Penalty Waivers
City Council previously authorized a 61-day waiver of penalties and interest for transient occupancy tax (TOT) and tourism business improvement district (TBID) payments, effectively extending the payment deadline from April 30 to June 30. This delay enables lodging and vacation rental facilities to maintain cash-flow during the next two months – when we expect to have these facilities operating again and generating new revenue. A total of 34 waivers were granted, with a total dollar value of approximately $600,000. The City is pleased to assist our lodging and vacation rental facilities that our critical to the City's community success!
Enjoy the outdoors, but be responsible!
With gorgeous spring weather upon us, and almost everyone anxious to get out of the house after the past 7 weeks, we are expecting many to be outside enjoying Big Bear Lake this weekend.
It is important to note that outdoor activity is permitted, as long as it's done in isolation or with your household unit, you keep moving, and care is taken to stay far away from others also enjoying the outdoors. Face coverings are not required when engaging in solitary outdoor activities or with your household unit, however, face coverings must be worn if others are nearby. USFS hiking trails, City parks, and the Alpine Pedal Path are expected to experience higher usage this weekend, so please be cautious and avoid interacting with others.
If you are out for a walk in your neighborhood, in The Village, or along the lake, please keep your distance from others, do not congregate, and make sure you are wearing face coverings. Please note that restaurants and other food establishments are permitted to operate for take-out and delivery only, and if you order food please do not congregate outside the establishment! Please take your food home, or to a location far away from others.
Boating activities are permitted on the lake [as of May 1], with a maximum of 4 individuals permitted on the boat. Limited vehicle / trailer parking (only 25 spaces) is available at the East Public Launch Ramp, and social distancing and face coverings are required while launching.
The City will have an increased enforcement presence to ensure that the public complies with these requirements. The City is working hard to enable the reopening of businesses in our community, and in order for us to take this next step it is critical for our community to use proper social distancing, face coverings, and personal hygiene. Thank you for your cooperation!