Big Bear Vacation Rentals Must Follow The Rules
All homeowners who wish to rent their cabins as vacation rentals in Big Bear must comply with rules, regulations, and restrictions as governed by the city or county. Getting your vacation home permitted for rental can be daunting, but fret not. Jumping through the hoops is a necessary process but is not impossible.
The rules and ordinances exist mostly to ensure the health and safety of vacation renters, surrounding residents, and to protect owners' property. Depending on the property's location, it must be registered with either the City of Big Bear Lake or the County of San Bernardino.
Here are some examples of regulated items:
Occupancy Limitations and Parking Restrictions
In the City of Big Bear Lake, the occupancy is limited to one person for every 200 sq ft of living area based on the square footage of the entire house. San Bernardino County determines occupancy based on the square footage of the sleeping spaces. There is also a limit to the numbers vehicles that are allowed to park on the property based on the occupancy limit of the home and available off-street parking spaces.
Signage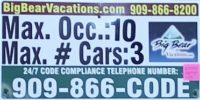 Each vacation rental in the City of BBL is required to have an approved identification sign visible from the street including the contact info for the owner or managing agency, occupancy and vehicle limitations, and the phone number to the City's Code Compliance division.
Check-in Procedures
The City of Big Bear Lake requires that all renters must be checked-in "face-to-face" with the vacation rental owner, manager, or management company. Simply giving out a lockbox combo or keypad code is a violation of this requirement.
Fire Safety Equipment
There are specific rules regarding the installation and placement of fire extinguishers (and annual certification tags), smoke detectors, carbon monoxide detectors, and ash disposal. In addition, there must be a minimum amount of clearance between fireplace chimneys and tree limbs.
Emergency Egress
There are regulations regarding which rooms and areas are legal for occupancy based on the available exit points, i.e., windows and external stairs.
Other Health & Safety Items
More health and safety items that must be compliant include: structural soundness of all stairways, decks, and railings; and functioning plumbing and electrical, i.e no leaky faucets or exposed wiring.
Applications, Forms, Fees & Taxes
Regardless if your cabin is located in the City or the county, you will need to make sure all of the required applications, inspections, permits and other paperwork are completed and current. In the City of BBL, you will be required to pay TOT (transient occupancy tax) and TBID.
More Information & Resources
City of Big Bear Lake
If your property lies in the 92315 zip code, you will need to adhere to the City of Big Bear Lake private home rental ordinances. The City of BBL provides a wealth of information on their website, including a comprehensive manual with photos and diagrams to clearly illustrate the requirements. Read through the info thoroughly, so you know what to expect when preparing your cabin to be a permitted vacation renatal.
San Bernardino County
Properties that lie outside of the 92315 zip code in neighboring Big Bear areas (including parts of Moonridge) will need to follow the Short Term Rental Ordinance established by the County of San Bernardino. Historically, the county ordinances were considerably less stringent, but they have become more strict in recent years.
Management Companies
If you rent your home through a vacation rental management company, they will likely help set up your home and guide you through the compliance process.